Every port has:
Harbour Master
Deputy Harbour Master
Pilots
Marine Manager
Vessel Traffic Controllers
Port Manager
Harbour Engineers
Civil, Electrical & Mechanical Engineers
Terminal Managers
Financial Manager
Human Resources Manager
Port Planner (Usually These People Are Economists)
Marketing Manager
Security
The number of people employed in each division depends on:
The size of the port
The number of ships calling at the port
The amount of cargo passing through the port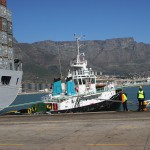 Careers: Harbour Services Slide 1 of 5
Careers: Harbour Services Slide 2 of 5
Every ship entering or leaving port requires a pilot. A pilot assists the ship's master to bring the ship into port, or to take the ship out of the port. He (or she) directs the tugs to assist the ship to manoeuvre in the narrow confines of the harbour. He (or she) will board the incoming ship by helicopter or launch. A helicopter or launch will take the pilot off the outward ship.
Careers: Harbour Services Slide 3 of 5
Pilot embarking from the pilot launch. Photograph: Andrew Ingpen
Careers: Harbour Services Slide 4 of 5
Helicopter preparing to land the pilot aboard a containership off Durban.
Careers: Harbour Services Slide 5 of 5
Tug Master (and Trainee Masters), Tug Engineer (and Trainee Engineers) and Tug Crews